It started with a biro.
Six Connections started over 20 years ago, as Dave (skinny, ginger and pretty nervous) bumped into Ian (huge, shaved head, with a bit of a swagger) in the Fresher's line at Uni.
"Got a pen mate?" started a REAL conversation and a connection. Through Uni and the years after, the connection remained strong. Mates for the distance! In September 2011, Ian took his own life. 
"I struggled with guilt for many years and as a result hid from my true feelings for a long time. It wasn't easy, but with support I started to talk more openly about how I was really doing."
Dave puts his heart and (Adidas-clad) soles into getting mates talking, flipping the focus on mental health and helping to make those tough conversations easier. 
But now is the time to go bigger. This is about legacy. REAL conversations, in normal places like the pub or at the footy, with proper connection. Let's get mates talking over a beer.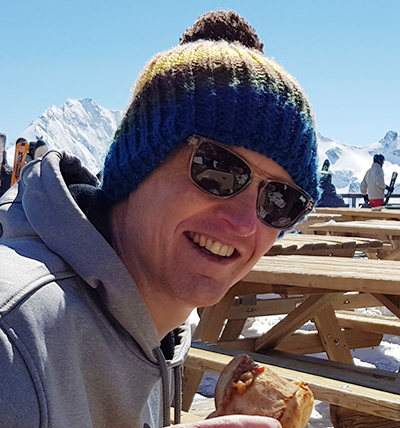 Ideas need people.
The chance meetings & real conversations didn't stop at uni… Sarah turned up in Dave's world during 2020, in the days when online was THE place to hang out, and another unlikely friendship began.
Despite the difference in volume (Sarah's the quieter one) the pair quickly figured out that to get anywhere with this idea to change the world they would need to work together. With her own mental health story already driving her work, Sarah was all in from the start ("you had me at Six") bringing quiet challenge and make-it-happen energy.
Keeper of hens, mum and fresh-air-addict, Sarah dreams of a quiet connections & a peaceful beach hut on the seafront.
I've got a mate who.
Some connections arrive out of the blue, and some are right under your nose.
Big ideas about coffee and beer were going to go nowhere without a product guy… around this point Sarah admitted her other half knew a thing or two about retail, being as how he'd launched Nando's into retail more years ago than he cares to imagine, so she'd ask him nicely if he'd help out.
And so, despite trying to quietly retire & spend more time cycling, Phil said yes.. and the team was formed!
Happiest on his bike or a pair of ski's, Phil's leaning into being a long-haired hippy & dodging retirement at every turn.
Ian - Planning Pal

Meet all our connections

Dad of three and husband of one, if it's outdoors Ian is interested. Property developer, guitarist, hot tubber and big thinker, Ian helps us drive forward and keep the purpose in the pints.

Jake - Backup Bud

Meet all our connections

Dad, Evertonian and Bruce Springsteen fanatic, Jake is CEO of Chasing the Stigma and founder of the Hub of Hope, the UK's leading mental health support database. The Hub is our support partner.

Andi - Soul Sister

Meet all our connections

Converse wearing, Beyonce loving, mum of two, Andi is all about the festival feels. Never without a beat in her head, she helps us to keep the heart and soul in every brew and biscuit.